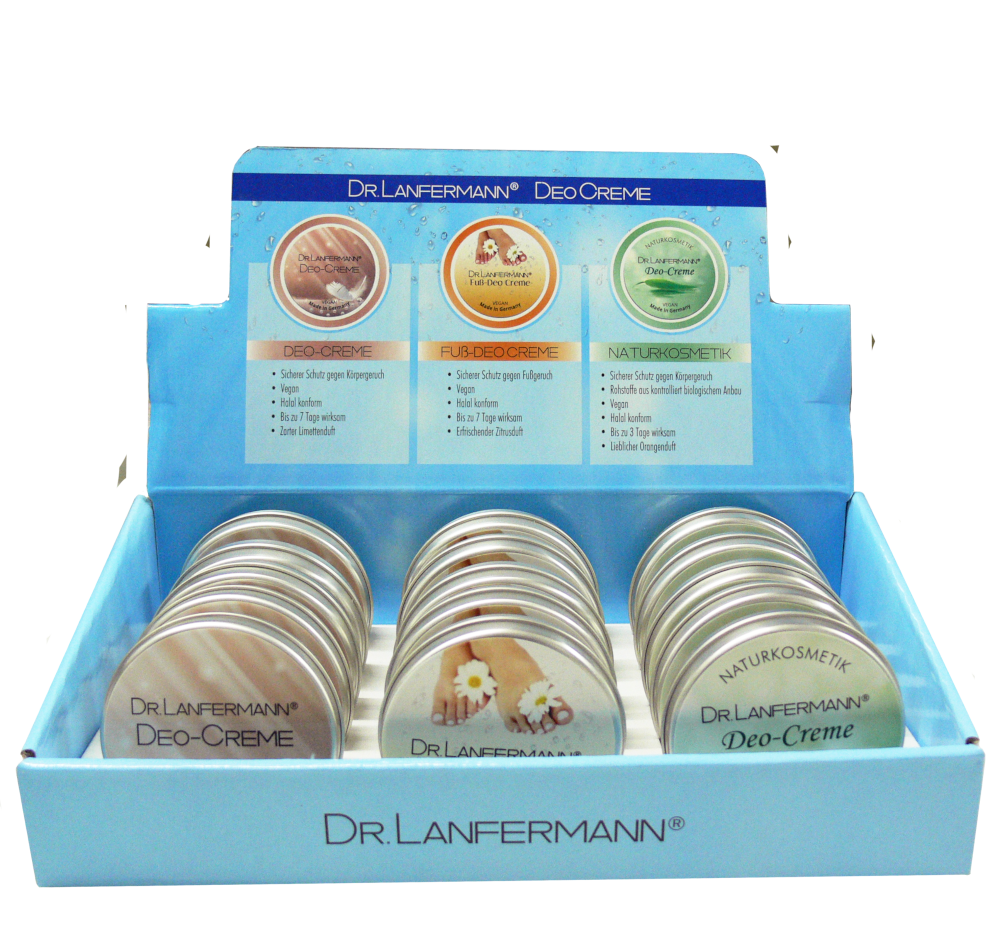 Fekunda is expanding its cosmetics program with three other deodorant products under the label Dr. Lanfermann®. What is special about the products is its mode of action. Dr. Lanfermann ® Deo cream does not need to be renewed daily, but works for up to several days.
The standard deodorant cream is based on pharmaceutical petroleum jelly with zinc oxide. This combination works even in the harshest use cases. The effect persists despite showers. Only when a decrease in the effect is observed does the deodorant cream have to be reapplied, and this can be quite good for up to 7 days. In hot areas and in summer this high effect is not achieved, but already up to three days of effect has been detected at an outside temperature of 40°C. The deodorant cream nourishes the skin and is very productive. For 4 months, everyone should make do with a 30g jar if they stick to the instructions. This means about 3 jars a year and a sharp reduction in waste. The product is only for Germany available in the shop. Please send an e-mail, if you are interested.
The natural cosmetic product does not contain petroleum jelly, but a jojoba wax that has similar properties to petroleum jelly. However, extreme ranges of effect are not to be expected. But at least three days of effect have already been achieved. Furthermore, this product contains oils from controlled organic farming. The natural cosmetics Dr. Lanfermann® Deo cream contains as an odoring component an orange oil with a delicate scent and is offered in a 30 g jar.
Deodorant cream is not only effective under the armpits, but also with odor on the feet. People who have to work in closed shoes all day, especially in boots or work shoes, know that. When they come home in the evening, they have to wash their feet first, because otherwise the peace of the marriage will be crooked. The Dr . Lanfermann® Foot Deo Cream helpsthese people. The foot-deodorant cream is offered in a 30g jar. A refreshing smell of limes rewards after day work. Of course, the foot-deodorant cream also works for more than a day, but on hot days the need could increase. The foot deodorant cream is like the standard deodorant cream based on pharmaceutical petroleum jelly.
All creams are offered without folding cardboard to reduce the amount of waste. In addition, the high efficacy of falling Only small amounts of waste during the year. How Fekunda performs His contribution to avoiding unnecessary waste.
All Dr. Lanfermann® deo creams contain no aluminum salts. That is why transpiration is not suppressed.
We are still looking for wholesalers and distributors At home and abroad.